Wine Frenzy
---
---
Chateau Carignan Cadillac Cotes de Bordeaux 2009 Magnum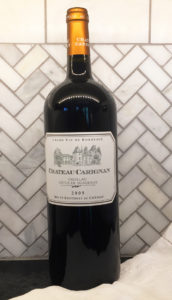 Item A
This Bordeaux blend has a vermillion hue and an intense fragrance of blueberry and blackberry. Elegant in mouth, the wine has a fruity structure with black olive and berry aromas, and velvety tannins for a long, flavorful finish. A complex wine that is nicely structured, and well balanced. Best ever from this winemaker. A perfect accompaniment for all meats, game and ripened cheese. Drinking well now for your next big party! Wine Spectator -92 points.
Donor: Grand Vin Wine Merchants
---
Va Piano OX 2013 Red Wine Blend Columbia Valley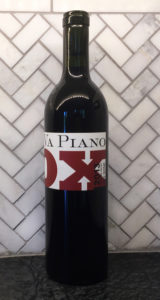 Item B
This 80% Cabernet blend was designed to be a perfect wine to pair with food. It is fruit forward with supple aromatics of cinnamon spice, cacao nibs and toasted oak. Well-balanced acids and tannin structure give OX great weight and structure without being overwhelming. Ripe raspberries, Italian plums, and toffee will make the palate sing, giving way to a lasting finish which coats your mouth with touches of red velvet cake and bourbon cured cherries. Pair this wine with beef tenderloin or with a warmed tomato & spinach salad. Great now with a slight decant, this wine shows potential to last through 2020.
Donor: Anne Hirsch and Tom McDonald
---
Chateaux Carignan Prima 2008 Magnum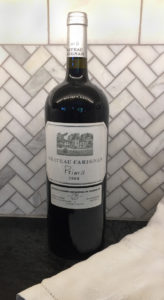 Item C
This 100% Merlot has an appealing deep color and a refined nose of toasted oak backed by ripe dark cherry fruit. A full, rich blend that is enhanced by oak ageing. Fruit remains forward on the finish. The mouth feel is subtle with a little pepper, oak and distinct red berries that please your palate, and a short stemy finish that invites another taste. A well-balanced, refined wine. Drinking well now but will keep. A great value for this magnum! James Suckling -90 points.
Donor: Grand Vin Wine Merchants
---
Karma Vineyards Methode Champenoise Brut 2012
Item D
This Brut from the Columbia Valley AVA is a blend of 54% Pinot Noir, 36% Chardonnay and 10% Pinot Meunier. Karma is located in an underground cave in Chelan and established itself as the first Methode Champenoise wine maker in the area in 2007. The wine blends the aromas of apple and pear with fine bubbles leading to a creamy mid-palate and finish. It was 48 months en tirage. Wine Press Northwest rating 2011 -Outstanding.
Donor: Patty Seib
---
Grand Reve Ciel du Cheval Vineyard Collaboration Series I 2005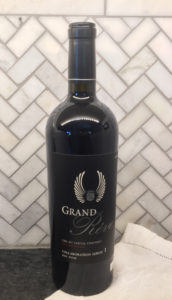 Item E
This collaboration between Red Mountain AVA fruit and winemaker Ben Smith of Cadence is a blend of Cabernet Sauvignon, Cab Franc, Merlot, and Petit Verdot, aged for 32 months in 70% new French oak. It has an impressive bouquet of wood smoke, mineral, clove, sage, black current and blackberry. On the palate it is smooth-textured, elegant, very concentrated, layered and savory.  This wine's best days are still ahead of it, with a suggested drinking window of 2015-2030, so drink now or lay it away for a few more years. Robert Parker -95 points.
Donor: Kathy Berndt and Steve Albrecht
---
Winter's Hill Pinot Gris Hans & Lena 2015 & Winter's Hill Pinot Noir Block 1 2014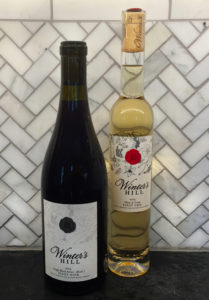 Item F
Pinot Gris: In January 1929, Hans & Lena Winter emigrated from Germany to the United States. They eventually settled in the Dundee Hills of Oregon in 1961 on land that is now Winter's Hill Vineyard. Local attorney Mary Gentry's brother Peter and his family own the estate. This dessert wine highlights the vineyard's ability to achieve exceptional ripeness while maintaining balance and freshness. The nose highlights fresh pear, peach, toast and wildflower. The palate is sweet and soft with flavors of wildflowers, pear, apricot, and a hint of toastyness. 10% residual sugar.
Pinot Noir: This Oregon Pinot is sleek and focused, with fine tannins around a spicy core of red berry, white pepper and violet flavors, gliding easily into a long and expressive finish. The flavors have a hard candy quality, with pleasant hints of toast and caramel through the close. Drink now through 2024. 143 cases made. Wine Spectator -92 Points. Wine Enthusiast -90 Points.
Donor: Jane and Ed Laclergue
---
Caparza Riserva 2010 Brunello di Montalcino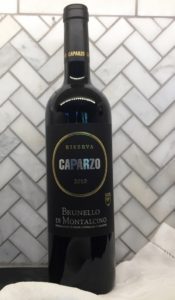 Item G
This is a big, powerful wine that is going to require a few years to soften. Dark and brooding, the Riserva shows the more masculine side of Sangiovese. A harmonious, full-bodied wine that is both delicate and austere. This wine has a penetrating bouquet, very full and varied, reminiscent of wild berries. Black cherry, plum, leather, spice and tobacco all sit on firm beams of acidity and tannin. There is a sense of explosive energy to the 2010 that may be enjoyed now but will benefit from being held for several years. Pairs well with roasts, grilled and braised meats, game and ripe cheeses. Wine Advocate -96.
Donor: Bill Robinson
---
Andrew Will Winery Sorella 2012 & Ashan Barrel-Fermented Chardonnay 2013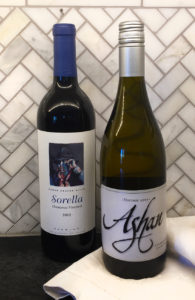 Item H
Sorella: This gorgeous Washington wine comes from the Champoux Vineyard in the Horse Heaven Hills AVA and is made from 67% Cabernet Sauvignon, 20% Merlot and 13% Cab Franc. Aged 18 months in new French oak, it has smoking notes of black current, black raspberry, toasted bread and spice-box to go with a full-bodied, awesomely concentrated yet layered, balanced profile on the palate. There's a lot of tannin here, so short-term cellaring is advised. This beauty will have 2-3 decades of longevity and will stand toe-to-toe with some of the greatest Bordeaux blends out there. Robert Parker -96 points.
Chardonnay: Sourced from some of the finest vineyards in the Columbia Valley, this Washington Chardonnay possesses a pure expression of the varietal. The grapes were gently whole-cluster pressed and fermented in stainless steel, with minimal oak influence to retain its complex flavors of lemon, citrus and minerals. The Ashan 2014 vintage won the Seattle Magazine Award for Chardonnay.
Donor: Alex Kistler and Mary Lane
Value: $100+
---
Quilceda Creek 2004 Cabernet Sauvignon
Item I
Wine Spectator ranks this cab as #28 in their top 100 wines from the world in 2007. It is velvety and generous, with great presence, balance and harmony. A supple, sinuating style, with coffee and bittersweet chocolate accents, surround a beautifully contained core of ripe fruit, plum and cherry. The finish expands impressively against a veil of firm tannins and well-integrated oak flavors. Best from 2010-2020. Wine Spectator- 95 points.
Donor: Jim & Patty Leonard
Value: $160+
---
Reynvaan "Stonessence" 2012 Walla Walla Valley Syrah
Item J
Robert Parker describes this wine as possibly the greatest ever for this estate, and it could merit a three-digit score in a few years. Made from 100% Syrah from their estate vineyard in The Rocks region of Walla Walla. This terroir always yields a perfumed, gamy complexity, and this beauty doesn't disappoint, with loads of cassis, smoked meats, olive tapenade, violets and lavender soaring from the glass. The palate is full-bodied, seamless, perfectly balanced and layered, with a stacked mid-palate and an awesome finish. Give this insanely good Syrah 2-3 years and enjoy through 2027. Robert Parker -98 points.
Donor: Tim Kelly and Lisa Johnson
Value: $200+
---
---
Live Auction
---
---
Homemade Pies for a year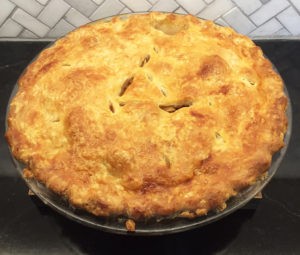 Item 1
Is this the year you resolve to savor the little things? Smile more and bark less? Maybe, eat more pie?  Here's your chance.  Take a pie home tonight and enjoy a different homemade seasonal pie each month for the next 12 months.  Pie flavors are negotiable, but could include: lemon cheese, coconut cream, rhubarb-frangipane, key lime, strawberry basil, mixed berry, apple, pear, pumpkin, and chocolate.  In the spring when we have lots of eggs, your pie could be a quiche! Pies will be delivered to a mutually agreed location downtown or in West Olympia on the first Friday of each month unless other arrangements are made.  We live near Evergreen and, if you live near me, I'm happy to bring the pie to your house.
Donor: Elizabeth McManus
Value: $360
---
Sailing trip on Budd Inlet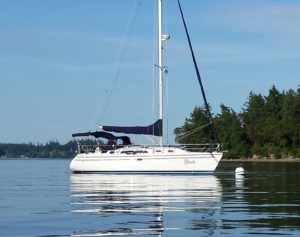 Item 2
Join Board Member Lynn Childers and his wife, Mary, aboard the 35-foot sailboat Glinda. The afternoon will be tailored to your wishes: You can learn the basics of sailing or brush up on your skills, watch for marine birds and mammals, or simply enjoy the ride as you circumnavigate Squaxin and Hope islands.  For two adults.  Wine, beer and other beverages and hors d'oeuvres will be provided.  The cruise will be for 3-5 hours and will depart and return to Swantown Marina.
Donor: Lynn and Mary Childers
Value: $400
---
Forest Forage by Mimi Williams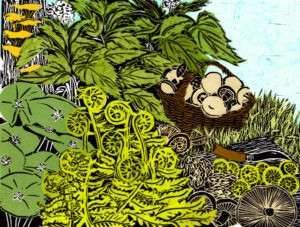 Item 3
Original linoleum block print artwork by Mimi Williams.  Forest Forage features a mushroom foragers basket, tools of the trade and beautiful forest green scenery. Custom archival framing done by Olympia Framemakers.
Donor: Mimi Williams & Olympia Framemakers
Value: $600
---
Brunch on Totten Inlet with author Maria Ruth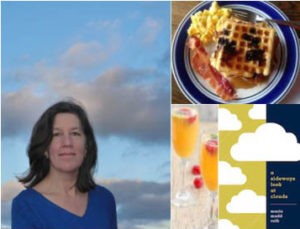 Item 4
Join Olympia author Maria Ruth for a lively conversation about pursuing mysteries and finding joy in the natural world. Maria is the author of more than a dozen books on natural-history topics, including Rare Bird: Pursuing the Mystery of the Marbled Murrelet and her forthcoming book, A Sideways Look at Clouds. Brunch is hosted on Steamboat Peninsula, overlooking Totten Inlet for up to 8 people. Winning bidder may choose from several dates.
Donor: Maria Ruth
Value: $600
---
Sailing cruise for four with Jane and Steve Chavey on their boat New Yorker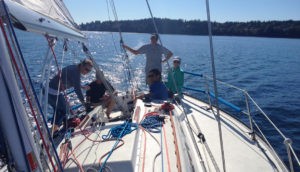 Item 5
Sail/Cruise (depending on wind, etc.) will include refreshments during the sail and hors d'oeuvres and wine when back at the slip.  Steve and Jane will plan the 3-5 hour sail/cruise with winning bidders regarding the variables: when, where they want to go and how long they would like to be on the water.
Donor: Jane and Steve Chavey
Value: $400
---
Trip to Mexico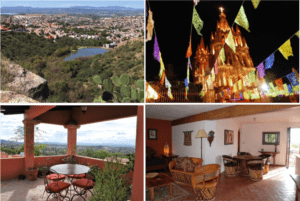 Item 6
Enjoy a special week, Dia de los Muertos, in the beautiful city of San Miguel De Allende, a colonial-era city in Mexico's central highlands near León. Full of baroque Spanish architecture, excellent restaurants, enchanting cobblestone streets and a thriving arts culture, it is a wonderful destination for relaxation, shopping and hiking. The Day of the Dead festival is truly unique – whether you choose to dress as a Catrina or watch the many parades and bands honoring the dead, this will be an experience you won't soon forget. Stay in a lovely condo on a quiet street near the center of town. It sleeps 3 (one bedroom and a daybed), full kitchen and bath, for 7 nights the week of Oct 27 through Nov. 3, 2018.
Donor: Megan Hubbard & Gordon Wheat
Value: $600
---
Beach, Bubbles and Bivalves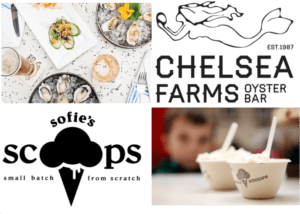 Item 7
A feast to feed eight people at Chelsea Farms on Eld Inlet in a casual cocktail setting. Raw bar, beer & wine, cocktails and an assortment of clam, geoduck and oyster dishes. Delicious craft gelato made locally with local ingredients by Sofie's Scoops will finish a meal you won't forget! Dates will be mutually agreed upon, and used by August 31, 2018.
Donor: Chelsea Farms & Sofie's Scoops
Value: $700
---
Truffle Hunt

Item 8
Professionally guided truffle hunt for up to 6 people: Unleash your inner hunter-gatherer as we forage for native Oregon truffles, a true gourmet experience! Stella the award winning Lagotto Romagnolo dog will lead us through the woods and show you what she does best. Afterwards, you'll enjoy a picnic of libations and truffle-infused goodies. We'll show you why Oregon truffles are so unique and you'll go home with a truffle or two, and all you need to know about storing and using them like a pro. Foray will take place in the mountains, no more than 2 hours from Seattle. Truffle foraging sites are top secret so location and details will be sent a few days prior to your outing. Foray dates are flexible and can be scheduled at a mutually agreeable time between October-March, when our native truffles are in season. Auction winners please contact Sunny (your hostess) directly to arrange a date and time.
Donor: Cascadia Truffles
Value: $1,320
---
Batdorf & Bronson Coffee Connoisseur Experience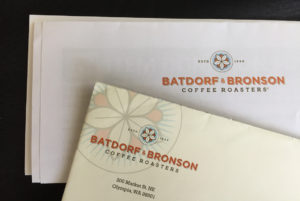 Item 9
You and up to 9 of your friends, will go behind the scenes at the Batdorf & Bronson (B&B) coffee roasting facility in Olympia, WA. Experience a brief history of coffee, discover where it is grown and how it is processed. Take a private tour, learn to cup coffees like a pro and let B&B share with you their favorite ways to brew. This experience will call upon all your senses and will leave you with a new-found sense of appreciation for this amazing beverage and agricultural product. Your experience will last 2 hours, which includes the tour, coffee cupping and brewing class. Each person will receive a pound of coffee and a special gift. Tour will be scheduled Mon-Thur if you would like to see the actual roasting process; other days of the week will not include the live roasting process. Call to make your reservation 14 days prior.
Donor: Batdorf & Bronson Coffee Roasters
Value: $500
---
Fall at Darlin Creek Preserve Beaver Pond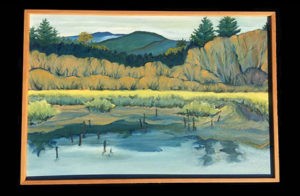 Item 10
This original modern landscape by Jane Mottishaw Chavey is of one of Capitol Land Trust's newest properties – Darlin Creek Preserve – in the Black River watershed. This is the second in a series of her paintings celebrating the valuable ecosystems protected by CLT in our South Puget Sound region. Oil paint on canvas; with Douglas-fir and walnut frame by wood worker and boat builder, Scott Hauser. (A painting by Ms. Chavey currently is on exhibit at the Southwest Washington Juried Art Exhibition at the Minnaert Center Gallery at SPCC.)  Size: 18"x24"
Donor: Jane Chavey
Value: $1,000
---
A private tour of the CLT Preserve of your choice
Item 11
Capitol Land Trust's Stewardship Coordinator, Mike Leigh, will give you a tour on the property of your choice! Tour for up to 10 people and available on a mutually agreed upon date. If visiting a conservation easement, tour will be subject to the landowner's approval.
Donor: Capitol Land Trust
Value: Priceless
---