"CLT's programs offer people the opportunity to explore, learn, and become filled with awe over the diversity and beauty of our natural environment." – Susie Vanderburg
It is our pleasure to highlight Susie Vanderburg as our Volunteer of the Year! Susie has been instrumental in the development of our on hands-on education programming at Bayshore Preserve and the Inspiring Kids Preserve. With a background in curriculum development, Susie helps with lesson planning, volunteer orientations, and leading student lessons.
If you haven't listened to Susie talk about stream bugs, you're missing out! She is a wonderful facilitator and an enthusiastic teacher, which makes her a fantastic addition to our education programming.
Education has always been important to Susie, so she received a MA in Education Curriculum from Western Washington University. After teaching as an elementary school teacher for nine years, she transitioned to new employment becoming the Public Involvement and Education Coordinator for the Thurston County Stormwater Program in 1993.  She worked with schools, ran the County's Stream Team program, and facilitated citizen advisory committees for basin planning. It was here she earned the nicknames "Susie Stormwater" and "the Bug Lady" due to conducting macroinvertebrate trainings and monitoring.
In 2009, Susie became the Education Director for LOTT developing programs and curriculum for LOTT's new WET Science Center. "I liked working at LOTT because our main education goal was to promote water conservation by helping people see the connections between their actions and environmental protection.  Showing people what it takes to clean up wastewater, including the $100,000 a month electric bill for LOTT, is a powerful incentive for water conservation, especially when you consider that a lot of that electricity comes from gas and coal-fired plants connected to the grid."
Since retirement in 2012, Susie volunteers with Stream Team in their Salmon Stewards Program, the Thurston County Food Bank with their Food Rescue Program, Native Plant Salvage Project doing administrative support, and Capitol Land Trust assisting in the development and implementation of our education programming. She also loves to spend time with her grandson exploring beach tidepools.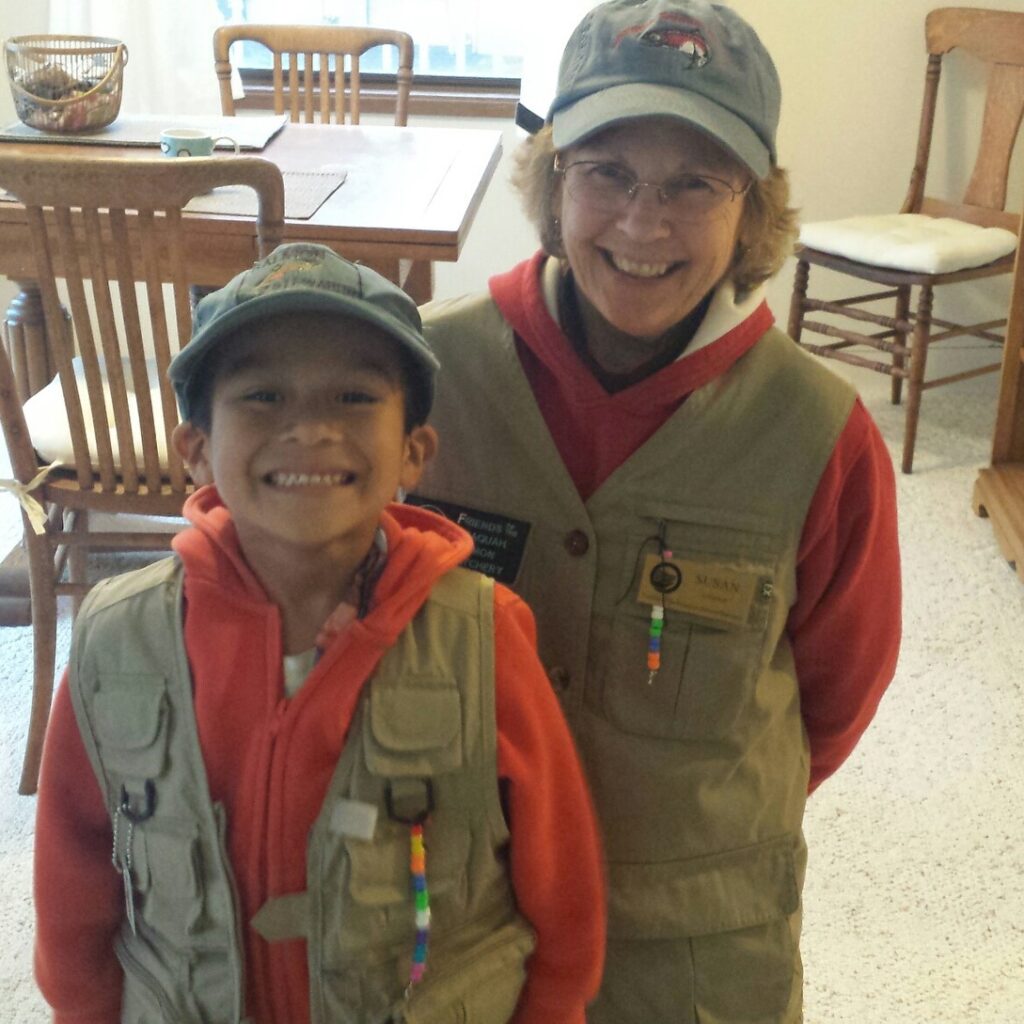 We asked Susie why she believes outdoor education is important. She responded, "It is often said that in order to protect the environment, we first have to care about it.  And, in order to care about it, we first have to become familiar with it.  Too many kids (and adults) hardly ever take the time to explore the natural world.  They don't develop those deep connections that could inspire them to take actions to protect something they have come to know and appreciate.  I volunteer with CLT because its programs offer people the opportunity to explore, learn, and become filled with awe over the diversity and beauty of our natural environment." We couldn't agree more – Thank you, Susie!