We have two exciting additions to your Bayshore Preserve experience: a self-guided interpretive map and our new photo monitoring project!
Our new self-guided interpretive map is a Google Map featuring interpretive points along the trails. Learn about the natural and restored features of the preserve by exploring the map at home or take it along with you on your phone to follow along as you walk. A special thank you to the Puget Sound Estuarium for helping put this map together.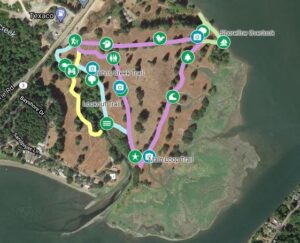 Also identified on the map are four photo monitoring stations. Many of you know of, and have even helped with, the restoration work at the preserve since CLT purchased the property in 2014. From side channels, tidal basins, riparian revegetation, oak plantings, mulching, invasive removal and more, the land is rebounding.
Now you can help us document these changes over time. It's easy! Place your photo taking device in the bracket at a station, take a photo, and submit it to us. Submitted photos will be added to a time-lapse photo collection for each point. Learn more and submit photos here. (A special thanks to Jane, Maxine, and Ray for their assistance in this project!)
We hope you enjoy these new things to do while out on the land. Happy walking!